Re: NEW RELEASE/OLD RELEASE
---
[ Follow Ups ] [ Post Followup ] [ Earl Scruggs Message Board ] [ FAQ ]
---
Posted by David Schenk on April 12, 19101 at 21:59:19:
In Reply to: Re: NEW RELEASE/OLD RELEASE posted by RICHIE ALLEN SEINFELD on April 11, 19101 at 22:18:02: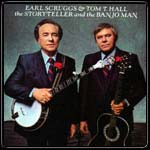 : OH YES, OLD RELEASE - IM SURE I HAVE THE EARL SCRUGGS/TOM T HALL VINYL LP HERE. I WANT TO LISTEN TO IT. IF YOU TELL ME THE ORIGINAL LABEL IT MIGHT HELP ME FIND IT. THANKS.

Concerning your question about the original label for the Earl Scruggs, Tom
T. Hall album. It was on Columbia Records and released in 1982.
---
---