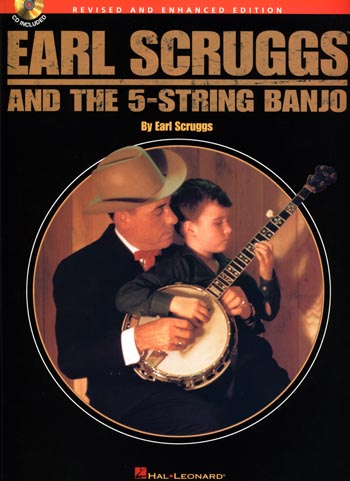 Earl Scruggs and
the 5-String Banjo
Instructional Book
A newly revised and enhanced edition.
The best-selling banjo method in the world! Earl Scruggs's legendary method has helped thousands of banjo players get their start. The "Revised and Enhanced Edition" features more songs, updated lessons, and many other improvements. It includes everything you need to know to start playing banjo, including: a history of the 5-string banjo, getting acquainted with the banjo, Scruggs tuners, chords, how to read tablature, right-hand rolls and left-hand techniques, banjo tunings, exercises in picking, over 40 songs, how to build a banjo, autobiographical notes, and much more! The book/CD version includes a CD with Earl Scruggs playing and explaining over 60 examples!
The optional instructional CD contains 60 tracks that accompany the lessons in the book. Each lesson is a seperate track to ease learning. If purchased with the book, the CD is included in a plastic sleeve in the back cover of the book. If the CD is purchased separately, it comes in a standard jewel case. Some copies of the original instructional cassette tape are still available.

Softcover with CD in backcover: $34.00
Softcover without CD: $19.00
Instructional CD in jewel case: $15
Instructional cassette tape: $9
Table of Contents
Getting Acquainted with your Banjo
Scruggs Tuners, Hooks and Capos
Tuning the Banjo
Chords
How to Read Tablature
Timing - new
Right-Hand Rolls and Left-Hand Techniques
Playing the Banjo - Basic Tips
Exercises in Picking - over 100 lessons
Song Section - 44 songs (14 new songs) - See songs below
My Life and Times (Earl's updated autobiography)
A Brief History of the 5-String Banjo
How to Build a Banjo
Making Scruggs Tuners
Other sectoins in the revised and enhanced edition include: Earl's preface, Dr. Nat T. Winston's Foreword, an Introduction written by Dr. Burt Brent, and a page with description and photos of the banjo Earl first learned to play titled "My Father's Banjo."
Songs in the book:
American Made-World Played
Ballad Of Jed Clampett
Bleeker Street Rag
Blue Ridge Cabin Home
Broad River
Careless Love
Carolina Boogie
Carolina Traveler
Cripple Creek
Cumberland Gap
Dear Old Dixie
Earl's Breakdown
Flint Hill Special
Foggy Mountain Breakdown
Foggy Mountain Chimes
Good Times Are Past And Gone
Ground Hog
Ground Speed
Home Sweet Home
Hot Corn, Cold Corn
Instrumental In D Minor
John Henry

Little Darling Pal Of Mine
Lonesome Road Blues
Loraderojost 111 Breakdown
My Cabin In Caroline
Nashville Blues
Old Folks
Pedal To The Medal
Pick Along
Pretty Polly
Randy Lynn Rag
Reuben
Roller Coaster
Sally Ann
Sally Goodwin
Shuckin' The Corn
Silver Eagle
Station Break
String Bender
Train Number Forty-Five
Yonder Stands Little Maggie
You Bake Right With Martha White
Your Love Is Like A Flower